This is
Private MURDO MACKAY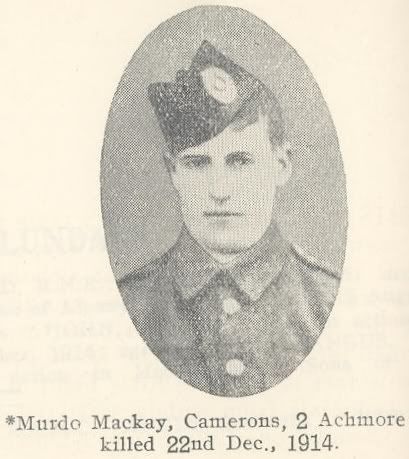 Murdo last lived in Lewis at 2 Achmore,
He was the son of Norman and Catherine MackayHe served in 1st Battallion, Cameron HighlandersService no: 3/5432He died on 22 December 1914RIPHe is remembered on the memorial at Le Touret, on panels 41 and 42His name is mentioned on the Lewis War Memorial, under Lochs on plaque 1
Murdo Mackay is a casualty of the First World War. His name ranks amongst about 1,200 on the Lewis War Memorial, which stands just north of Stornoway, on a prominent hill - you can't miss it when you enter the town from another part of the island.
When the Great War broke out, some 6,000 islanders entered service with His Majesty's Armed Forces. That is every second man.
One out of every five or six who joined up made the ultimate sacrifice. They were lost in the mud of the trenches, to the U-boats or in the heat of the Arabian desert of what is now Iraq. Another two hundred were lost at a stroke when the Admiralty Yacht "Iolaire" foundered on the Beasts of Holm on 1 January 1919, the third worst maritime disaster in peacetime in the 20th century.
In the links section of this blog, there has been for a few weeks a link to "
Faces from the War Memorial
". It shows the casualties from the Great War, who originated from Lewis, with a portrait where available. Work is still in progress, and about half of the 400 portraits currently available still need to be incorporated. Additional details are also still being compiled. A claim to completeness cannot be made. A list of maritime casualties is available until the end of this week at the Maritime Exhibition in Stornoway Town Hall. I have been advised that army casualties are not possible to totally verify, as some have fallen unbeknown but unto God.
The "Faces" project was compiled from Loyal Lewis, Roll of Honour 1914-18, the Commonwealth War Graves Commission and with help from Stornoway Historical Society and allied researchers.