Calumannabel made a timely reminder that it is indeed that time of the year again. Time for friskyness at the South Dell fank!
The arrangements are already beginning as I type. A one-way system will be in operation across the island, with only clockwise movement allowed on the roads. That is to say, from Stornoway to Barvas up to South Dell; those leaving the fank will have to continue round to Skigersta and make their way south across the moor to Tolsta. I thought the council had allocated £80 million for those 10 miles of road years ago, so there should be a road by now. Or did I hear someone say BCCI?
Public transport arrangements are also being trialled, in the shape of the minirail system that is envisaged for the Castle Grounds. Tracks will be laid over the Barvas Moor over a distance of about 20 miles to Dell, and the carriages will be fully wind- and waterproof. I don't know about windproof, but perhaps Somerfields and the Coop could stop selling baked beans in the last week of this month.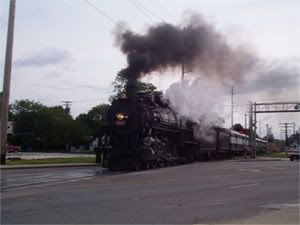 In order to get female participants across the Minch, a cruiseliner has been chartered - the one that called here on a Sunday last May. The chaps will have to row it across the Minch in a hollowed log, although a refreshment stop will be provided on Eilean Tighe, on the Shiants, before the last leg into Stornoway. Men arriving by any other means but a carved-out log will not be allowed to proceed to the Fank.
Further updates from Calumannabel.